Primavera
---
Oracle's Primavera is the leading global provider of cloud and on-premise Enterprise Project Portfolio Management (EPPM) solutions. EPPM leaders and executive stakeholders across all industries rely on Oracle's Primavera solutions to improve strategy execution, operations, and financial performance.
Primavera P6 Enterprise – powerful tools for global project planning
The most powerful, robust, and easy-to-use solution for globally prioritizing, planning, managing, and executing projects, programs, and portfolios in asset-intensive industries.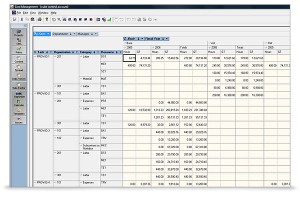 Plan, schedule, and control large-scale programs and individual projects
Select the right strategic mix of projects
Balance resource capacity
Allocate best resources and track progress
Monitor and visualize project performance versus. plan
Foster team collaboration
Integrate with financial management and human capital management systems
Primavera Contract Management – keep construction projects on schedule and on budget
A document management, job cost, and field controls solution that keeps construction projects on schedule and on budget.
Construction project management involves groups of people representing different disciplines, from project managers, contract managers, and division managers to subcontractors, architects, engineers, suppliers, and owners—all trying to collaborate on a multitude of issues and changes while juggling multiple documents and contracts. Controlling your construction project's plan, budget, forecast costs, and deliverables is vital to the success of your projects and the future of your business.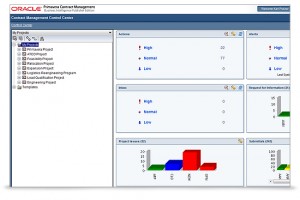 Provide visibility into contractor performance
Enable timely payment for completed work to avoid claims
Facilitate project team collaboration so there are no surprises
Streamline field communications and document administration
Primavera Portfolio Management – unmatched flexibility for enterprise portfolio management
The leading portfolio management solution, providing unmatched flexibility and infrastructure for enterprise portfolio management.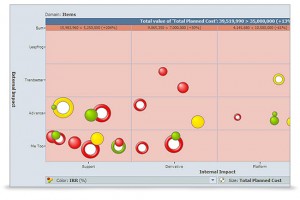 Select, prioritize, and align initiatives to achieve objectives
Understand the impact of changing or adding initiatives to portfolios
Enable better OMB 300 + 53 submissions
Primavera Risk Analysis – full lifecycle risk analytics solution
Primavera Risk Analysis is a full lifecycle risk analytics solution, integrating cost and schedule risk management. Primavera Risk Analysis provides a comprehensive means of determining confidence levels for project success.
With Primavera Risk Analysis you'll have an objective view of required contingency to account for cost and schedule uncertainty as well as analyzing the cost effectiveness of risk response plans. Combined, these form the basis of a "risk adjusted schedule," which today is becoming the norm within the planning and scheduling process.
Identify common scheduling pitfalls that may result in misleading schedule or risk analysis results
Integrate predeveloped risk registers and define new risk registers
Address full lifecycle risk management through advanced Monte Carlo-based cost and schedule analytics
Report confidence levels with regards to finish dates, costs, float, internal rate of return and net present value
Primavera P6 Analytics – handle large-scale projects with ease
A packaged BI solution that provides valuable insights into your Primavera P6 EPPM project portfolio performance so you can uncover trends, discover the root cause of issues, and forecast costs.
Built on top of the Oracle Business Intelligence platform (Oracle Business Intelligence Suite Enterprise Edition Plus), Primavera P6 Analytics comes packaged with a new updated version of the Primavera P6 Reporting Database. All of the data loading, data mapping, data models and dashboard reports you will need to start gaining unprecedented visibility into your Primavera P6 Enterprise Project Portfolio Management projects and portfolios is included.
Oracle's Primavera P6 Analytics enables you to: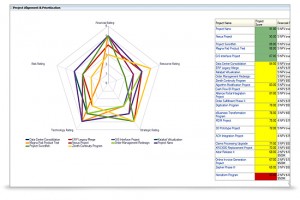 Uncover deep insights into projects as well as complete history and trends over time
Quickly identify potential performance issues
Effectively course-correct problems throughout the project lifecycle
Ultimately help you make better project portfolio decisions
Primavera Contractor – make scheduling, reporting, and progress planning simple
An affordable solution specifically built for contractor that simplifies scheduling, reporting, and progress planning. 
Plan and schedule projects quickly and easily
Identify driving relationships using activity network diagrams with trace logic
Easily create attractive and fully customizable graphics including Gantt charts, activity network diagrams, time scale logic diagrams and histograms
Control budgets, changes, and estimates at completion to ensure a successful project delivery
Primaver Unifier – Rapid project execution with increased visibility
A best-in-class cloud-based solution for managing capital projects and facilities of any size in every vertical market. It combines rich cost management and control, document management, schedule and resource management, fund management, and more.
Best-in-class cost control and project delivery and management capabilities
Real-time visibility across projects to make fast, accurate decisions
Easy monitoring, visualization, and adjustment of plans based on financial forecasts
Multi-level hierarchies to model programs, portfolios, facilities, and assets
Completely integrated and user friendly collaboration
Simple to deploy and use